If you have a website or you own a website, the most important part is to check what Web Hosting are your using? An excellent website depends on what kind of Web Hosting is being used.
Hosting can be used for many applications, blogs, E-commerce websites, and Online Stores. Anyone who wants to create and build a website needs good web hosting to store their website's data and files so that the end users can access the website over the internet.

There are many Web hosting like the Shared Hosting, VPS Hosting, WordPress Hosting, Cloud Hosting, Dedicated Hosting and Reseller Hosting. And, below are some of the best 10 Web Hosting Platforms which are being widely used across the globe.
In this blog we will check out which is the best Web Hosting platform from the top 2 hosting providers, i.e Hostinger and Godaddy.
Background of Hostinger and Godaddy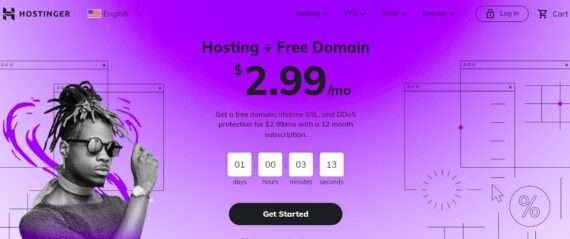 Hostinger was found in Kaunas, Lithuania 2004, Hostinger was originally named Hosting Media. In 2021, Hostinger was listed as one of the fastest-growing companies in Europe. It offers website hosting in over 170 countries. Hostinger Datacenters are in Europe (Lithuania, United Kingdom, The Netherlands), South America (Brazil), North America (the USA) and Asia (India, Singapore, Indonesia). Hosting24 was another subsidiary which was launched in year 2008 in the United States.
Godaddy was founded in year 1997 in Phoenix, Arizona by Entrepreneur BOB Parsons. As of December 2021, Godaddy has more than 20 million customers and over 9k employees worldwide, headquartered in Tempe, Arizona and incorporated in Delaware. Their Datacenters are in North America (The United States, Mesa, Scottsdale, Phoenix, Arizona, Chicago, Virginia, Los Angeles), Europe (Amsterdam) and Asia (Singapore).


So, if you compare Hostinger with Godaddy, Godaddy seems to be little older than Hostinger, also the user base is much larger than Hostinger. Therefore, Godaddy dominates over Hostinger in this factor.
Plans offered by Godaddy and Hostinger
There are 3 plans being offered by Hostinger, a. Single Web Hosting, b. Premium Web Hosting, c. Business Web Hosting.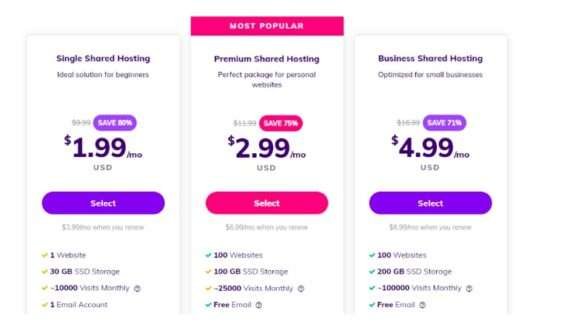 There are 4 plans being offered by Godaddy, a. Basic (for personal use), b. Standard (for new businesses), c. Premium (for growing businesses) and d. Ecommerce (for selling online).

1. Basic (For personal use)
2. Standard (for new business)
3. Premium (for growing business)
4. Ecommerce (for selling online)
Both platforms have various plan, therefore both are winners on this factor.
Godaddy Vs Hostinger on Uptime
For all plans of Godaddy the average uptime is 99.9%. But, the uptime was not as per the agreed 99.9% in year 2022. I have personally hosted 3 websites and these were down in two occasions in the last one year. In Nov 2021, it was revealed by Godaddy that it has suffered a cyber-attack and around one million customer details were hacked by the hacker.

There was a similar attack earlier this year in April, wherein hundreds of Godaddy websites were caught up in a hacking campaign. In this attack there were close to 280 websites which were infected with a backdoor, these websites were hosted with Godaddy's Managed WordPress.

Similar to Godaddy, Hostinger also guarantee's 99.9% server uptime rate. But unlike Godaddy, the past history of Hostinger is good as there were no major outages of Hostinger. A web hosting service provider's performance also depends on the uptime.
So, in terms of uptime and performance Hostinger is a clear winner.
Godaddy Vs Hostinger on Pricing
Through Hostinger you can create and build your website for just $2 monthly , this is only if you go with the basic and normal plan, this is very much cheaper if you compare it with Godaddy. Overall, Hostinger offers the best value for money. In such a low cost, hostinger provides more benefits than Godaddy.
So if you are planning to host multiple websites, Hostinger is the best.

On the pricing part, Hostinger is again a clear winner. Both hosting platform offers 30 days money back guarantee.
Godaddy Vs Hostinger on Support
Both provide 24×7 support, Godaddy has a live chat and phone support. Hostinger has live chat and email support. Live chat support of Godaddy is brilliant, they are prompt in response, but they lack quality support engineers. For resolving a particular issue it takes hours, in fact some issues can even take more than a day to resolve.

There is a delay in responding when you use Hostinger live chat support, but solution is quick as they have highly professionals who can sort or your issues in minutes or make take few hours.

So in terms of support, even though Godaddy support team are fast to respond the actual solution is delayed, if it is compared with Hostinger. Here as well Hostinger wins over Godaddy.
For more discounts, check out the Hostinger Black Friday Sales.
Both the platforms are being used by millions of people across many countries. In most of the aspects Hostinger dominates over Godaddy, therefore Hostinger is a clear Frontrunner. I would definitely recommend Hostinger if you are planning to host and manage your website.
To learn and earn Online Money and Passive Income, do check out my other blogs on my websites.
Which is cheaper Hostinger or GoDaddy?
Hostinger is almost 50% cheaper than Godaddy, this is applicable for all available plans.
Is Hostinger good for web hosting?

Hostinger is one of the best Web Hosting Provider. The uptime is good, performance is good, good in terms of security, better customer service and very cheap plans.
What is better than Hostinger?
Some say that Bluehost is better than Hostinger, but the competition between them is very tough.
Is Hostinger Indian Company?
It is an employee-owned Lithuanian establishment based in Kaunas. It was known as Hosting Media before it was rebranded in 2011. The company currently provides Web hosting, VPS, cloud hosting services, and domain registration.