I have written more than 200 blogs on Passive Income and ways of earning online money, today we will look in details about an online tool which is gaining lot of popularity in global market across all countries. It's CANVA.
Some of you must be familiar with this name and tool. People who are are the graphics and design industry are engaged with this tool and earning a comfortable income sitting at home. For most of them it is a good source of passive income or a secondary income.
Canva is an online design and publishing tool used by billions of users across the globe. It was launched in year 2013 and till date there are close to 5 Billion + designs created in Canva.
One can create lot of things with Canva, some are listed below.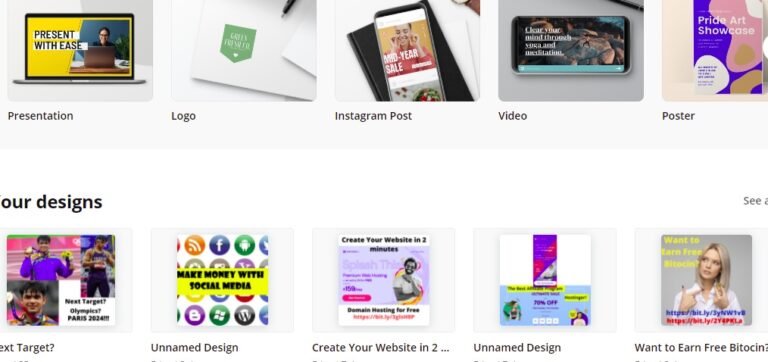 Ways of Earning From Canva
Canva is also an online tool through which you can generate a daily income, an income of more than $200 is possible through Canva, and the good thing is that you don't require any technical skilss.
There are four major source of income from Canva.
1. Freelance your Canva designs.
2. Sell Your Canva Templates.
3. Canva Affiliate Marketing.
4. Create training videos of Canva.
I am generating around $70 per day without doing any work, I did some work on Canva two years back and the results in terms of money is getting now accumulated in my account. If you are very serious with Canva, you can easily earn more than $500 daily, you need to just grab one of the earning opportunities which i have already listed above.
1. Freelance Your Canva Designs

Since, Canva is a source of millions of graphic templates, you can create designs and sell your design in freelancing websites like Fiver, Truelancer, Freelancer, Peopleperhour, etc.

You will find lot of people who are looking for design, to design their company logos, to design their youtube brand, to design their instagram and facebook post and covers. You can become a seller and sell your design services, you can get paid $5-$10 for a single design.

But, who will take and purchase your design?
New Startup companies, Digital Marketing and advertising companies, People who are new to internet marketing, New Digital Online Store owners, Social Marketing experts, and business professionals who are looking for a beautiful presentations.

2. Sell Your Canva Templates
The best feature of Canva are templates, you name any social networking site, and most of the professional social media experts are using design templates from Canva.

Once you have created canva templates, you do not require any website to sell these templates, you can either sell your templates on Etsy or Creative Markets or just advertise on facebook or Instagram or Twitter.

Normally people who do not have any skills or who do not have time to spend on creating designs will search for templates. There are lot of people who are selling their Canva designs but more than that there are buyers who are looking for some beautiful design templates.
Just like any other business, earning from Canva templates can take weeks or even months, you can't expect earning from the very first day.
Pick a niche, if you think you are good in designing social media templates, go for it. If you think you are excellent in designing business templates, start making professional business templates.

3. Canva Affiliate Program
This is the best earning method through Canva. Canva runs its affiliate program via Canva Pro affiliate program. Click here to join the Canva Affiliate program. You earn $36 if someone joins the Canva pro program using your affiliate referral link.
What Canva Affiliate Program is looking for?
They are looking out for a Digital influencer – Probably a blogger who is active in the design community.
A design educator – Who loves and can teach design online.
A person who has a large audience base – If you have a constant quality traffic on your blog or website.
Even if you are able to convince few users to join the Canva Pro program, you will be able to earn few hundreds of dollars. Before joining the Canva Pro, they can actually try the 30 days trial period which is 100% free. Below are some of the features of Canva Pro.

4. Teach Canva / Create Canva Learning Videos
Teach Canva on youtube. Create videos on how to use Canva in real and simple ways. There are lot of people who are making Canva training videos and getting thousands and millions of views. Through Youtube monetization you can easily make some money + you need to promote your Canva Affiliate program
Create Canva learning courses in training platforms like Udemy or Thinkfic.

There is lot of earning opportunities in Canva, also this tool is in high demand and will continue to be in next coming years. Therefore if you are really serious in earning a good side income, go for Canva.
Keywords Related to Canva
Canva creators.
Canvas design ideas.
Canva website template.
Canva cannot be used to make resume.
How to earn money from canva.
Can canva designs be used for commercial use.