Some Useful tools, application and links which will boost your business, increase traffic and Sales
1. Ojooo WAD
Ojooo WAD is a paid-to-click (PTC) website that supposedly offers to pay you real money for completing their offers.

Below are some of the ways on how you can earn from Ojoo WAD
Option 1 – Watching Ads
The bulk of your income on Ojoo WAD will come mainly from watching ads.
After you've finished the registration process, you can now log in to the member's dashboard area.
Once you are on the dashboard, just click the Paid To Click Ads link on the top.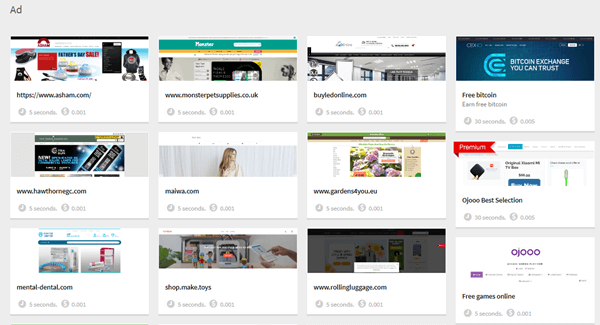 Option 2 – Paid Offers
Another way to earn rewards from Ojooo WAD is by completing their paid offers.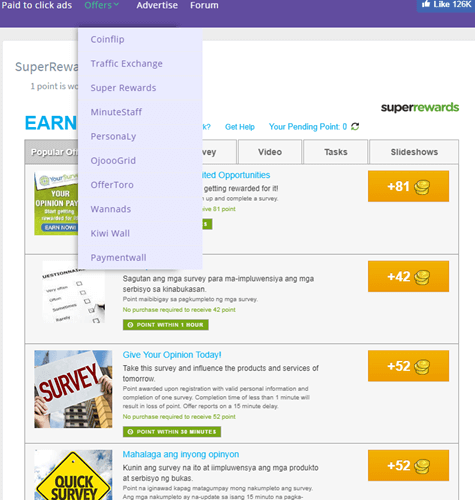 There are plenty of types of paid offers you can choose from.
Now, their offers are actually classified into different groups, as you can see in the photo above.
The premise here is that you have to complete the offer before you receive the reward. The offers will range from viewing other member's websites, answering quizzes, signing up to a website and playing online mini-games.
The reward you will get from this type of earning method will be different. Instead of earning real money like watching video ads, you will instead be rewarded with points.
The points you earn can be converted into real money, which will talk about on different section of this review.
Just be aware that you have to look carefully in this section – some of the offers can be great and a great way to earn some extra money but others are really not worth it.
But if you have the patience to filter the offers and find the good ones, it can be worth checking out some of them.
Option 3 – Paid Surveys
Normally, with survey sites, you will receive a survey from the site you registered to. You can then answer that survey and receive the reward.
But with Ojooo WAD, it is a bit different.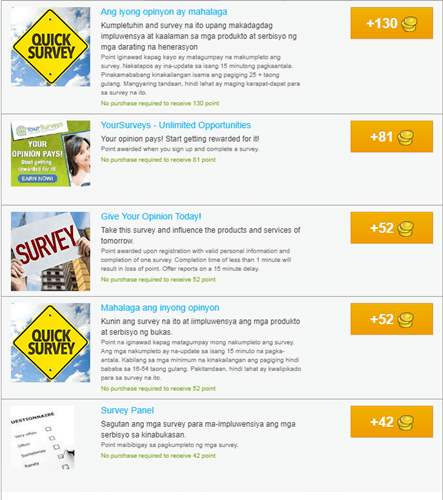 The surveys you can take will come from survey sites that are advertised in Ojooo WAD.
The paid surveys that you can take won't actually come from them. Instead, it will come from other websites that have partnered with Ojooo WAD.
They only act as a survey router to redirect you to the sites that actually offer paid surveys.
In my opinion, the rewards you get from doing these paid surveys is actually a bit watered down compared to the actual reward you get when you are a member of the site that provided the survey.
So, it might not be a good idea to spend a lot of time doing these paid surveys, as they tend to take a bit of time to complete.
One thing to note about the paid survey offers is that it doesn't have a special section on their dashboard. It will be mixed with the other available offers.
Option 4 – Ojooo Grid
Ojooo Grid is a form of contest where you get to win prizes by simply choosing a grid in a photo.
This is actually a pretty common form of contest in PTC sites like GPTPlanet and more.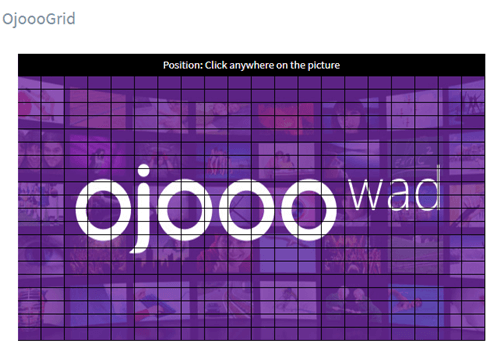 You will have 10 chances per day to open grids.
The way this works with Ojooo WAD is, you will be given 10 tries per day to find the grid with the prize. All you have to do is click the grid you want and watch the ad that pops up until it finishes.
Once the ad is finished, the grid will open up and reveal what is inside it. Most of the rewards you will get if you choose a grid that has a prize will range from $0.50 to $1.00.
As you can see, it's actually not a lot, which is very underwhelming considering that everything will rely on chance.
If you've used up your number of tries, you can actually buy more chances to open grids.

You can also purchase additional chances to open grids.
This, I believe is actually the whole point of this contest. Since you can buy chances using the money you've earned from the site, it will actually be reducing your total income instead of increasing it.
I suggest you don't spend your reward balance in this contest since the number of tries will refresh every day.
Option 5 – Puzzles
Completing puzzles is another type of contest that you can join on Ojooo WAD. The video below will show how Ojoo WAD explains it themselves:
As you can see on the video, all you have to do is click and watch the ads. Some of the ads will contain a piece of the puzzle.
Simply click on the piece of the puzzle to claim it. Once you complete the pieces of the puzzle, you will then be eligible to join the prize draw for a specific item.
Normally, a photo of the item is the puzzle you will need to complete. Under the Puzzle section of the dashboard, you will see all the available puzzles and the number of pieces to complete it. Once you complete the puzzle, that will be equivalent to one entry to the prize draw of that item.
It's a pretty simple contest that revolves around watching ads. But you have to be aware that there will NOT be pieces of the puzzle on every ad but just sometimes on random ads.
So it can take quite some patience to find enough to participate in the prize draw.
Option 6 – Referral Program
Ojooo WAD actually has another way for you to earn money. And that is through their referral program where you can earn by inviting other people to join.
The way their referral program is structured is that you will earn a commission from the clicks that your referral makes.
Now, you actually have two types of referrals. The first type is the direct referral. These are the referrals that actually clicked your referral link and signed up as a member.
The other type is the rented referral. Yes, you read that right. You can actually rent a referral for a month. The rewards work just the same as a direct referral.
Although I'm not so sure though if the rented referral actually performs better than the direct referral in terms of the number of clicks. In theory, though, it should, since you paid for it. But I can neither confirm or deny that since the information is not available on their website.
However, according to the FAQ section of Ojoo WAD, they only rent out referrals that have been active for at least 5 days and have clicked a minimum of 20 ads.
This is a better guarantee than on many other PTC sites where you have no guarantee your rented or bought referrals have ever been active.
Still, you have to calculate carefully because even though the price for a rented referral is only $0.2 per 30 days, they do not click A LOT for you to just make the money back.
So if you decide to go for this option, I would suggest by testing small.
There are also referral contests you can join. The premise for these contests is, the more referrals you sign up, the more points you will earn.
Hurry up! Start using Ojooo and earn real money.
https://campaign.ojooo.com/?ref=yrawat249
https://ojooo.com/?ref_wad=yrawat249&o=wad&show_video=video_2&utm_source=reflink&utm_campaign=reflink
The Rewards Affiliates Affiliate Program is pretty straight-forward: They pay you $$$ to bring players.
Rewards Affiliates offers the largest and widest range of marketing tools in the industry in order to help you bring in traffic, as described in our Quick Tour section. Listed below are the main steps to become a successful affiliate:
Get a good domain nameThe domain name you choose should contain the keyword(s) you want to target. Try and get a domain name that your visitors can easily remember. If you wanted to target casino players, it would make sense that your domain name is something like "XXX-casino-XXX.com".
Make a quality siteIt is important that after attracting visitors you keep them for as long as possible on your site, plus encourage them to return. In order to achieve this you need to provide them with some interesting content, updated on a regular basis. This also helps your site rank higher in the search engines.Rewards Affiliates provide you with up-to-date tools, accessible from the members section of the site.
Keep it friendly to robotsTry and make it as easy as possible for the Search Engine Robots to crawl your site: avoid long meta tags, absolutely ban frames. CSS is highly recommended.
Add some marketing toolsAs soon as you have your template site ready, you can insert some of the creatives provided in the members section. These include:
Put your site Live!Upload your site on your web server and wait for the traffic to generate you some $$$.
Update your siteIt is important to constantly add fresh content to your site. Regularly replace banners with new ones. Ensure that the content on your site is current and up-to-date. Keeping it updated will encourage your visitors to return and your site will be better liked by the Search Engines.