Most bloggers these days are worried; they are worried about their future. And not only bloggers, Content Creators, and many YouTubers have also raised concerns because of ChatGPT, that is one of the features of Open AI, as this feature can write and create content like humans.
But should we be worried?
Will this kill blogging and bloggers?
Is there a risk that many content writers will lose their jobs?
Before we dive into the debate in detail, let us understand what is ChatGPT Open AI.
ChatGPT was launched by Open AI in November 2022, it is a chatbot. In simple language, it is a robot that will answer all your queries and questions. In short, it is a question-and-answering AI system.

It can chat with you, it can answer your question, it can write code, take tests, and manipulate data.

When anyone asks any kind of question to this chatbot, they will get a human-like response. These responses are so good, that you will think that these responses are given by actual humans.
Some Facts about ChatGPT.
After it's launch, ChatGPT took just 5 days to reach 1 Million + Users.
Netflix took 41 months, Facebook took 10 months, and Instagram took 2.5 months to reach 1 Million users.
Chatgpt is trained on a huge amount of data; the data is gathered from various platforms, social media platforms, and information from the Internet.
Chatgpt is trained to respond like a human, one can hardly find any difference if the response is from a human or from ChatGPT.
1. ChatGPT can save an ample amount of time, just give the required instructions and the results will be there in front of you in a few seconds.

Let us see an example, I have asked ChatGPT about the various Passive Income Sources. Below was the response of ChatGPT.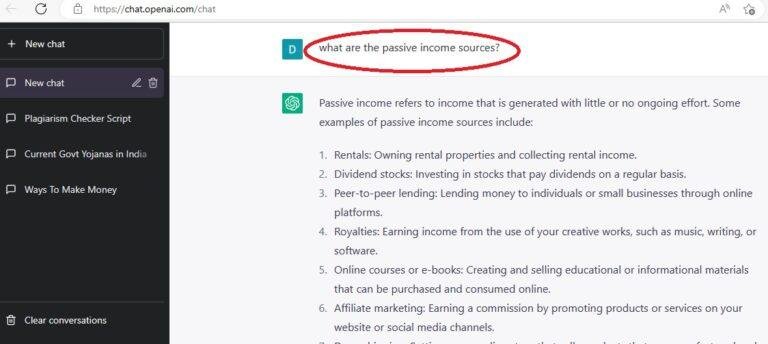 2. ChatGPT does not have a limitation of words. If you see another Content writer AI tool like Copymatic.ai or Rytr.me, there is a limitation of words, it is 1000 – 1500 words. If you go with the paid versions, the limitations are removed.
3. ChatGPT is at present free to use. But, there is some news that they will make this as a paid app.
4. ChatGPT can write content on any article, be it news, sports, politics, movies, fashion, products, services, etc.
Some of the above benefits are the pain areas of a blogger. Blogger will always look for content, content that are unique and rich and content that can be collected in few minutes, as it will save a lot of time. Some bloggers take days and weeks to write a single post or article, through ChatGPT they can complete their articles in just a few minutes.
Professional bloggers who are not dependent on any AI tool, or who do not use any AI tool are not happy. Somewhat they feel that they are cheated, as they are doing their honest jobs by collecting the data, analyzing the data, and then posting the data in an article.
Now new bloggers and bloggers who are dependent on someone to write the article are tension-free, collation and analysis of data are now being performed by such AI tools.
Also, you will see more and more bloggers emerging, trying their luck in the blogging field, they know now that ChatGPT is there to help them in generating articles.
So, now can such an Open AI tool destroy blogging and Bloggers?
The answer is NO!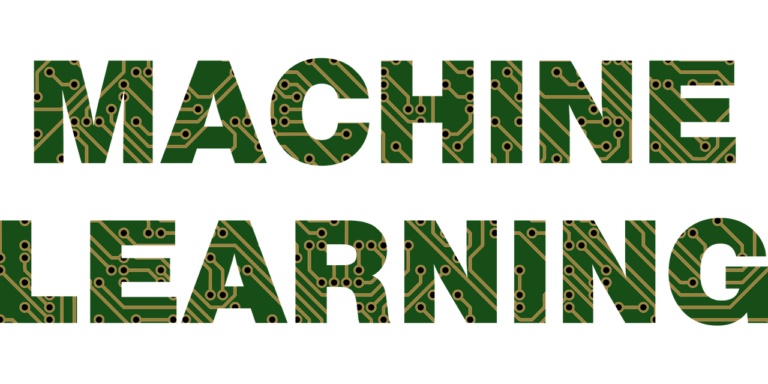 In the last 2 weeks, I generated a few articles from ChatGPT, the word count was more than 1500 words. The article looked awesome as if it is written by a professional blogger, sentences were accurate with good grammar, the keywords placement was good, also the headings were appropriate. I posted and published the article, but surprisingly I was not receiving any traffic on these contents.
It took me a couple of days to find out what was the root cause of such low traffic. When I checked the plagiarism, I was shocked to see that only 3-4 % data was unique.
This means the data was not unique; either the data has been collected from some internet sites or some blogs or articles.
This means there are many limitations of ChatGPT.
1. It is not 100% plagiarism free, you will have to again rewrite the content with your own words; you can't be totally dependent on such AI tool.

2. ChatGPT output quality depends on the input quality.

3. You will not find 100% accurate response. Some of the blogger reported that the response from Chatgpt was not accurate.

4. Some of the bloggers reported that ChatGPT was down due to some technical reasons.
With so many limitations, a blogger's job is safe and secure. But, yes we can take help from such AI tools to make an awesome blog that can look unique and rich.
This blog is not only on ChatGPT, in fact on any AI writing tool which is now being extensively used by bloggers across the world.
Below are some of the AI writing tools which can help you in writing a few articles.
1. Copymatic.ai
2. Writesonic.ai
3. Rytr.me
4. Jasper.ai
5. Copy.ai
There is no doubt that Artificial Intelligence is the future, but this can never replace manual intervention. AI tools will always require assistance from a human.
But, yes the coming years will be very tough and difficult for bloggers, they will have to compete with machine-learning robots. Robots that can behave, respond, and react like humans!
What is ChatGPT?
ChatGPT is an Open AI tool, It is a Robot that answers your queries like humans.
Is ChatGPT free to use?
Yes, At present you can use it for free
Who is the Owner of ChatGPT?
OpenAI owns ChatGPT. OpenAI was founded by Sam Altman and Twitter Owner Elon Musk in year 2015.