Well if you are blogger, then this blog will be very useful for you. Even if you are not a professional blogger or planning to start a carrier in blogging, this article will be beneficial for you. I have seen many bloggers in the past who have struggled to write a perfect article, they get blanked, they get frustrated and eventually they give up!
Some try other approach, if they are unable to write a blog, they will start copying articles from other websites, edit it and then upload it on their website. The result is, either they get penalized by google or they don't get enough traffic is the article is not a genuine one but a copied one.
If a person is new to blogging, for him it can take more than a day or week to write a perfect blog. For a professional blogger, it can take up to 2-3 hours to write a good genuine blog which can generate a good amount of traffic and a good amount of earnings.
Let us check out, what are the factors which can help us to write an awesome blog and that to in an hour's time. Sounds difficult, but it is doable.
During my initial days of blogging, the first 3 blogs took me a month's time. The next 10 blogs took me 15 days. After posting more than 20 blogs, I was taking 4-5 hours to write a complete blog of 1500-2000 words. Now, my speed has increased, I take just one hour to write an article. In the past 1 week, I have written more than 9 articles. For the entire one week, on an average I was working for close to 1 hour daily.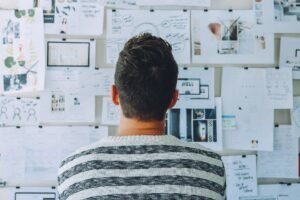 I am assuming that you have already selected the topic and you have made up your mind that you will write article only on this topic. Search the topic in google or in any other search engine, check the articles what other bloggers have written, and find out more articles which are similar to the topic which you have selected. Do not copy any content from these articles, just understand how they are presenting their articles, how long is the article, and how many subheadings are present in the post.
Moreover, check if the topic is unique. If there are many blogs written on the topic which you have planned, then it doesn't make any sense in writing the article as there is enough information available on the said topic. A unique topic is always better than a repeated topic.
If I am planning to write an article on "How to start a blog", there will be thousands of articles on the internet, but if I write an article on "Which plugins are useful for blogging", there will be few articles and can be termed as unique.
So to start a blog, the first and the most foremost thing is to get as much as information of the topic which you have selected. The data should be handy before you start writing the first line of your blog.
Write an Appealing Headline
When people search for an article or a blog, the one thing that they first see is the headline. A headline should be appealing and attractive, it should convince the user to open the article and read it. For a perfect headline, the best and most advanced tool is google keyword planner. Put your article data in the keyword planner or write few words.
For example, I am writing an article on how to become a digital marketer. I will put " How to become a digital marketer" in google keyword planner.
I will get hundreds of results, choose any keyword which you think can be an appealing one, also don't forget the keyword ranking. Such headlines fall under long tail keywords and can help in getting a good amount of traffic on your blog.
Your headline should be bold and colorful, this will put more impact.
Add Relevant Images and videos
Images can make your blog more interactive. If you see top bloggers who have become millionaire from their blogging carrier, all are using images in between their blogs. Free images can be downloaded from pixabay or pexels, you don't have to pay anything to download these images. Make a habit for adding at least 4-5 images in your single article. One image can be on the top of the blog or at the start, two or three images can be in the middle and fourth or fifth image can be at the bottom of the post.
I would suggest do not directly download and upload the images, do some modifications or some tuning before you upload it.
Apart from images, one can also upload relevant videos. You can use the same site which I have mentioned above to download and upload free videos. Ensure, the videos are not heavy and are very short in length.
Hey, forgot one thing about the images. Images should be compressed before you upload it, this will make site less heavy. Also, it will improve your site speed and load speed.
Add value in the body of your blog
This is the main part where you will spend and invest most of your time. The body of the blog is probably the lengthiest one in any blog. A body of typical blog should be close to 800 – 1000 words. The first tip is, write the blog as if you are friend and you want to help others. Do not write blog as if you are an expert and given lectures to your student.
The second tips is, make use of a voice typing tool, I would recommend you to write article in google docs which is having an in built voice typing tool. Do not use sophisticated words which are hard to understand, try to write simple words which are crystal clear. Use passive voice with proper grammatical sentences.
Normally when you are about to finish a blog, you end your blog by writing a conclusion statement of paragraph. Write a short summary or an overall short para on the complete article. In your ending note, you should highlight what are the benefits, mention that you are awaiting for the feedback. Don't forget to mention your email id, so that people can respond to you.
I have seen many readers, either they will read the heading, or the first paragraph of introduction or they will directly jump into the conclusion and see if the blog is worth reading or is it of any use for them.
Above are the five factors which one should consider before writing a perfect blog. But there are other factors as well which can help in writing a good content blog. I have already written a complete blog on Blogging tips, this is very useful for colleagues who are new to blogging and young aspirants who want to make blogging as their main stream carrier.
If you are looking out for some Online Earning Blogs and Passive Income blogs, do click here.