It is a myth, that if you are creating your own Youtube channel, you should be good-looking, handsome, and you should have good expressions. Gone are the days when you will hardly find any Youtube channel where the Youtuber is not showing his face, there are now Youtube channels coming up which are faceless, this means there is no one showing their face on the camera.

There are thousands of channels, which are faceless, and these channel owners are earning a lot.
Hope you are aware that Youtube is the second largest search engine after Google.

As per the latest statistics, there are close to 500 hours of video uploaded to Youtube every minute, which is 30,000 hours of video every hour, and 720,000 hours of video every day.

In the coming years, every family will have at least one Youtuber, and most of them will earn a good passive income through Youtube videos.

Now, coming back to the topic, why are faceless Youtube videos in such a demand? Why are such videos getting millions of views, and is it the right choice to go with faceless videos?

Before jumping into that, let us understand and find out why people are creating such videos. What are the factors driving people to make such faceless videos on Youtube.
This is the main reason why people start creating videos without showing their faces. Most of them feel shy to show their face on camera, they are not confident when creating videos when their camera is on.

In fact, such people deliver fantastic videos when they are off camera, and this is the reason they do not show their faces. They will give their voice, but in some case, they even feel shy to use their own voice, and therefore they use some pre-recorded voice or voiceovers.

Such kind of shy people will goof up everything if the camera is on, they will fumble, they will not remember their statement, their words, and it also can take many days to create a simple video.
The Perception that they are not good-looking
Many Youtubers or people who create video content have a perception that only good looking, beautiful, and attractive people can use their faces and make videos on youtube. This perception is totally wrong. They think their face is not photogenic; people will ignore or not watch their videos if they show their face.

Remember one thing, On Youtube content is king! If your content is rich, appealing, legit, and unique, no matter how you look, people will still watch these videos, and you will continue to get more subscribers.
If you are creating a Youtube video in which you have to show your face, the final product of such videos can take days and even weeks. There can be many reasons, a person can take more than 10-15 re-takes as they think that in the first 10 videos their expressions were not good and accurate.

In some, the voice and facial expression were not in synch, the delay can also happen if you forgot your dialogues or statement, and finally, it takes a lot of editing for a facial video on Youtube.

If you club all these factors, you will take a minimum 5-6 hours to create a single Youtube video. So, on average you can't create more than 4-5 videos in a week.
For many Youtube is just a part-time job through which they can earn some side income. There are many professionals who create their videos on weekends, or after office hours. Such kind of people do not want to disclose their privacy, they do not want people to know that you are making videos for some extra earnings. Some companies have strict policies which can go against them if the company comes to know.

There are some people who don't want their family members to know that their relative is a Youtuber.
How to Make Faceless Youtube Videos?
Faceless Youtube Videos and Youtubers are flourishing, day-by-day there is a huge demand for Youtubers who make faceless Youtube videos. Let us see some of the tips on how we can make faceless videos on Youtube easily!
1. Use Free Stock Images and Videos
There are many websites on which you can get free stock images and videos, to name a few of them are, Pexels and Pixabay. All these images and videos can be used to create Youtube videos. Join, collect, and gather free images and videos, combine them and create a video. You can also add a voiceover or free audio to make the video more impactful.

Check out the below channel, this channel has more than 10 million followers, and so is the earnings. Below Youtuber is earning in millions, all his videos have images and videos which he has uploaded from these free sites.
Channel Name – Touropia with 1.02 Million Subscribers.
2. Screen Recording Videos
There are many who record what they do on their laptops or desktops. Some watch their favorite sports on their TV and laptops, they record it and upload it on their Youtube channel by making a few changes so the video which is created is copyright-free video.

Some also record series from Netflix and Amazon Prime which they watch on their laptops. Moreover, there is no investment in creating such videos, you just need a microphone to add your voice, and free software to record the screen. There are YouTubers who are making millions by creating such videos. Below is one such video channel.

There are many gamers who have become professional Youtubers, their task is to just play games on their laptops, record them, and upload the same on Youtube.
Channel Name – Techno Gamerz with 27.8 Million subscribers.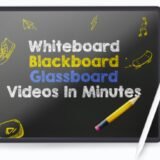 Use whiteboard animation software like doodle maker, this whiteboard animation software uses artificial intelligence. The application also has free-ready templates, language translation, and animated videos. You can easily make quick 5-10 minutes videos in a day, but yes this doesn't come free. You will have to shed a few dollars if you want to buy such software.

Click here to find out more about such software, and how to create and publish videos using such kind of applications.
Creating review videos doesn't require showing your face. You can create videos of particular products; add their reviews, and specifications. Such review videos are in huge demand, as there are many who watch such review videos before they plan to buy a specific product.

And, it is not about only products, you can also create review videos of services that are being offered.
The latest version of Youtube, which is Youtube shorts is full of faceless videos. Since these Youtube shorts videos are very small videos of a few seconds; it will hardly matter if you show your face.

The plus point of a faceless video is the cost. There are many prerequisites before you create your own video, since you are showing your face, the lighting should be good, the background should be soothing, to look more beautiful you will have to apply some makeup, a very good and professional high-end camera to shoot, and most importantly a software which can edit, compress these high-end videos.

If you sum up all the costs, along with all accessories, you will have to pay a lot. You can avoid these costs if you are making a faceless video.

Also, the entire process of creating and publishing a faceless video is very simple and quick. There are video content creators who create and publish more than 5 videos in a single day, this means close to 30 videos in a week, this is awesome!
If you opt for a faceless Youtube channel, you can be more creative, you have more freedom, you can open up with more ideas, and most importantly you will save more time and money.

So, pick up your niche, pick up your passion, and start creating your own Youtube Video without showing your face!

Also, if you want to learn and earn more on Online Earning and Passive Income, do check out my websites and blog, it is 100% free! If you want to learn how to make animated videos in just 5 minutes, click here.